Viglo's First Real Public Appearance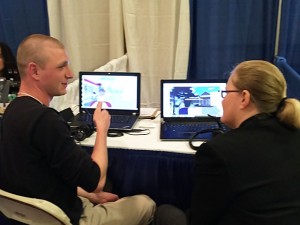 This is a long overdue post, but I would be remiss to not share Viglo's first real public appearance (I say REAL because I crashed a Rhode Island conference as it was finishing up, about a month prior, but there was no interest from the attendees in seeing Viglo, as everyone just wanted to go home).
I had a wonderful time showing off Viglo at the CT COLT's 2015 annual conference. While many people weren't all that interested in seeing Viglo at first, I was very annoying and pushy, not letting them go until I got the individual or group to sit down and try it out. It wasn't long before their reluctance gave way, as their eyes lit up seeing Viglo, especially when the Alter Echo feature was demonstrated. Suddenly these individuals weren't in such a hurry to be where they claimed they "had" to be when I first approached them.
The venue itself was nice; very spacious and CT COLT provided us with a great booth. The only qualm I had was that there was little time between speakers and work shops to have the attendees see the booths that were purchased. During that short period, there would be a huge influx of people, only a handful of whom I could snag because while I was showing Viglo off to some, I couldn't get others over to have a look. And with so little time between speakers, by the time I finished letting one group try out Viglo, most everyone else had already gone to their next workshop.
The staff who put on the CT COLT conference was wonderful! I especially want to thank Mary Granka, who tirelessly made sure I had everything I needed at the Viglo booth. The CT COLT was certainly a much better group than the blowhards at the MAFLA conference I "sort of" attended later that week (I'll save that experience for another post).
The CT COLT conference is such happy memory for me that two months later, I still have my ID and booth sign as memorabilia that I'll be able to look back on fondly once Viglo has reached great success.